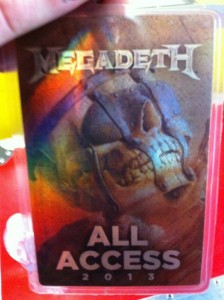 What a weird holiday season this year. I am not sure why, but everything just felt out of sorts. I will be the first one to tell you that I am glad 2013 is coming to a close.
Plus a big shout out to my family and friends for their support this year.
Now my best of 2013 lists (Because everyone else is doing them)… None of which are in any particular order:
Personal Best of 2013:
Resigning from Clear Channel Media and Entertainment Las Vegas.
Starting the Ignite Digital Group
The making of the 2013 XXMas card
Getting a follow from Gregg Allman, the Allman Brothers, and porn star Vanilla DeVille on Twitter (That's kick ass)
Best Rock Records: 
Motorhead – Aftershock
Tom Keifer –  The Way Life Goes
Airbourne – Black Dog Barking
Soil – Whole
Rob Zombie – Venomous Rat Regeneration Vendor
Best Concerts of 2013:
Rolling Stones (Anaheim, CA)
Motorhead (Los Angeles, CA)
Tesla (Phoenix, AZ)
Iron Maiden / Megadeth (Las Vegas, NV)
Tom Keifer (Phoenix, AZ)
Best Road Trip Records (In General not 2013):
I still love listening to these albums on my road trips
Rob Zombie – Venomous Rat Regeneration Vendor
Guns N Roses – Use Your Illusion 1 & 2
Jackyl – Jackyl
Zakk Wylde – Book of Shadows
Whitesnake – Slide It In
I also realized I am still not a fan of country music (besides Johnny Cash) even though I do like 2 country songs:
Kip Moore – Something Bout a Truck and The Cadillac Three – The South.