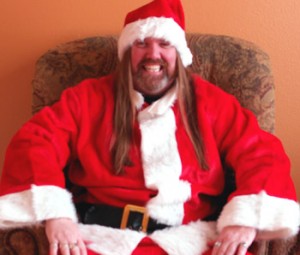 I am happy to say this years Christmas card is finished, and has been mailed out. This makes 14 years of twisted Christmas cards that have gone out to my friends. I love putting these cards together, but everyone should know they are not as easy to create as you might think. What started out as just a joke in 1999 has turned into something I look forward to putting together every year. It does get stressful trying to think of the idea to make sure that I have out done the previous years card.
There has even been a few different times that I thought I was not going to be able to pull off the card, and when word got out I couldn't believe my friends that would call me or email me, and say, "Dude, you have to make a card. I love your cards." So then the pressure was on to get creative and find a volunteer or two to make the card happen, and thankfully I have some awesome friends and here I am at 14 years. Damn.
As much as you get a kick out of my cards, I love the reaction that I get via text messages and Facebook posts about the card. When I read those it honestly makes the time, effort, and money spent well worth it. Over the past few years I am now getting the messages letting me know where everyone hangs the cards. It of course ranges from the refrigerator, mantels, Christmas card trees etc…The best yet is probably on the main office door at KDOC-TV in Los Angeles where I was working at the time.
Good times!
I can say that the card this year is kick ass, but next year is 15 and I can promise you it will be epic. Yes, I said epic. Mark my words when I tell you that year 14 has just finished, and I am already thinking about year 15. The planning will be relatively easy compared to getting everything together for year 15.
Lastly, I need to say thanks to all my beautiful girl friends who have volunteered to be in the cards. If it wasn't for you the cards would suck.
THANK YOU!