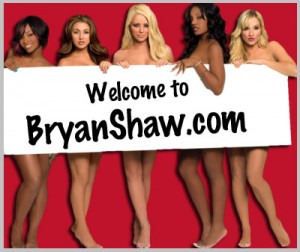 And…We have lift off! So here we are… Finally… After a few weeks the launch of the new BryanShaw.com. I am pretty stoked. Before I write anymore I need to give a thanks to my friend Steve Curtiss for his hand helping me get this thing going. So, as you browse through the site you will find a number of projects, videos, links, etc that I have been a part of. You will also find mindless ramblings in my blog postings. Basically, you will get a glimpse into the demented, yet creative mind that is me.
I ask you to check back often. Feel free to contact me via social media or e-mail that you will find at the top of each page.
I honestly can't think of a better way to launch the site than with a video I shot, produced, edited, and directed while I was in school a few years ago. This is what I like to call "the Director's Cut". The reason is simple. I went back after I turned this project in, and added what would be some more "racey" scenes. If you are easily offended then by all means do not watch. There is nothing hardcore, but some people might think it pushes or crosses a line. The video was shot all in fun.
My friends Sharen, Madison, and Caitlin (the Badass Bettys) played the Rock Band instruments as a bit of a parody for the project. Enjoy.

[lbg_vp1_html5 settings_id='2′]