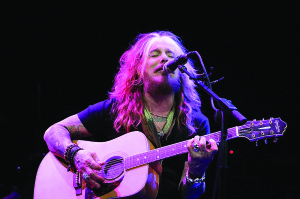 John Corabi, the rockstar who should be a household name. I have always thought the Crue album he did was one of the best Crue records behind Dr. Feelgood, yet there is still something about that record that I would almost say it's my favorite Crue album.
Today I picked up his solo unplugged album where he reworked some of the songs from his catalog of material, and if you haven't grabbed this record..You should.
It has always been said if you can't do it on an acoustic guitar then don't do it. Corabi does an awesome version of Hooligans Holiday acoustically.. I will be honest I never would have thought I would have liked that song with just a guitar, but damn I was wrong.
If you have a few extra bucks laying around pick up the Corabi Unplugged record.
Acoustic albums are always something that's cool to hear and a great way to get some different versions of great rock songs.
A few favorite acoustic albums:
1. Zakk Wylde – Book of Shadows
2. Tesla – Five Man Acoustical Jam
3. Alice in Chains – Unplugged
4. GnR – Lies
5. Damon Johnson  – Dust