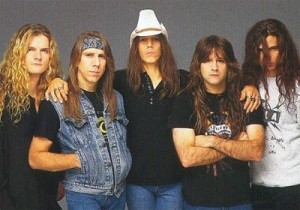 Another crazy week has come and gone. It's definitely beer thirty, and it will be a great weekend. Heading out on Sunday to see Tesla. You might be asking why are you going to see them again? Pretty simple. The guys always put on a kick ass show. I don't feel old, but yet when I think of bands like Tesla that have been around for 25 plus years that is when I think.. Damn.. I am getting old…But Great music is great music.
On Thursday, thanks to a good friend, (I will call him Randy to protect the innocent), I got to see some unreleased footage of the band from when they recorded their reunion album Into the Now. As a fan, it's pretty awesome to see this kind of stuff. I have always enjoyed the behind the scenes footage as you get to see them in the every day element. The creativity, the emotions, and just how it all comes together as a cohesive unit. Not to mention just seeing them as regular dudes. He has tons of footage and hopefully it will see the light of day at some point. Even seeing the guys back in the day with the long hair is quite amusing.
I will post a full review on MFNRocks.com next week.