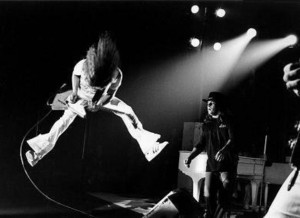 It's been a pretty low key weekend. I caught up on a few shows, one of which was Sons of Anarchy. I honestly like the show, but I can't figure out for the life of me why I can't buy Jax Teller as the President of the MC. Is it because he seems rather small in stature? Is it because of the Harley he rides? I really can't put my finger on it. Maybe, just maybe, it's the ridiculous fact that he wears white tennis shoes. I mean really who could take anyone serious wearing white tennis shoes? I think the show is good overall minus season 3 where they went to Ireland I think it's worth the time to get caught up. Not to mention you can't go wrong with Katey Sagal. She still looks hot. Maybe even hotter as a badass biker old lady.
I also watched a great BBC show on Southern Rock, simply titled "Southern Rock – The Southern Rock Saga". The rise of Southern Rock in the 1970's. Interviews with Gregg Allman, Donnie Van Zant, and others.
I think the best quote was when they were discussing Lynyrd Skynyrd, and how Ronnie Van Zant was just a hard working blue collar guy. "Men like me cuz I speak my mind, and women love me cuz I take my time" – Ronnie Van Zant.
It only is about 60 minutes long and if you are fan of music you should definitely check this out.
Click here to watch.
Later this week I will be checking out Social Distortion at the House of Blues. I think that is a great way to start off my holiday vacation.