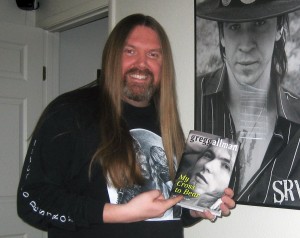 After a couple weeks, I finally finished up Gregg Allman's book, "My Cross to Bear". This book has to be the best book written by a musician. I'm not just saying that because it's "Dad's" book. My Cross to Bear is just awesome. It chronicles everything from his childhood, to the band, marriages, and his brother Duane. It really leaves no stone unturned. This, like, Lemmy's White Line Fever reads as if you were just sitting in your living room talking to him. It is a must read even if you are not an Allman Brothers fan.
My top 5 books written by musicians / bands:
1. Gregg Allman – My Cross to Bear
2. Lemmy -White Line Fever
3. Aerosmith – Walk This Way
4. Motley Crue – The Dirt
5. Ted Nugent – God, Guns, and Rock N Roll
Gregory (yea I can call him that…read the book) rolls into town at the Palms in January and you can bet I will be there to see the show around his solo album "Low Country Blues".