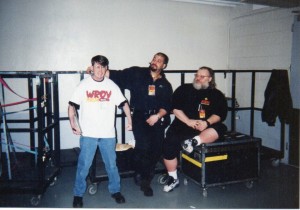 I just wanted to share some memories of one hell of a friend. I can't even begin to tell you how awesome of a guy Jake was. Those that knew him know, and those who didn't should have known him. I can't tell you the first time I met Jake, he just seemed to be at the radio station one day and from that day forward he was there making everyone laugh. That was Jake's style. No matter how bad the situation was he could make you laugh.
Ever since I met Jake we were friends.. Even his first night on the air at WROV in Roanoke, VA. I can remember my Program Director (we will just call him.. Buzz) coming in as I was working 7pm to midnight and he said find us a party.. What? Find us a party…Go on the air and lets go party with some listeners.. That was just the beginning…Fast forward a few hours.. I find us a party and Jake came in a little before midnight to be trained by yours truly.. I looked at him and said.. Here is your mic.. Here's cart 1, 2, & 3.. This is for CD 1, 2, & 3.. And just like that Jake was thrown to the wolves, Jake was on air and Buzz and I were off to party..
We sat at this listeners party and we heard Jake on the air talking over songs, saying the most random things over music..We both looked at each other and were like what in the hell is going on? We didn't care as he was hysterical right out of the gate. That might also have been the drinks that were involved who knows.. It was still classic.
I can remember listeners either loving Jake or absolutely hating hearing him on the air.. I sat in the studio many nights with a few beers and laughing my ass off as listeners called in and sang his praises or said he sucked.. Jake didn't give a shit.. He loved what he was doing..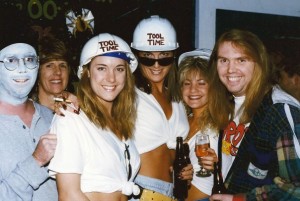 If you ever went out with Jake you just never knew what he was going to do. I think back to some things and wonder how he didn't get knocked     the f*ck out.. But it was just Jake being Jake..While I just sat back and laughed. He is still the only guy I know who could drop his pants in a bar and not get thrown out.
Even if Jake somehow managed to piss you off for something stupid you just couldn't be mad at the guy.. He just had a gift.. I don't know how else to put it.
Jake was such a fun dude.. Even the Metallica security guards laughed at him during our meet n greet with the band.
I told him a joke and it became pretty much the beginning of every conversation we ever had afterwards.. 2 guys are walking down the street.. the first says mornin' mother fucker… the second replies.. Mornin' reverend. I still laugh about this .. Just to get a text that said.. Mornin mother fucker.. you knew Jake was going to make you laugh even via text..
When Jake had his heart attack years ago.. and he was telling me about it.. I was laughing so hard I was in tears.. I said I shouldn't be laughing about this and he would just reply.. You gotta laugh man..
We always managed to stay in touch through phone calls, texts, Facebook etc.. The last time I saw him was probably in 2006 when I took a trip to Roanoke to see some friends. We were sitting having breakfast with a girl I was dating at the time and he looked at me and said.. You are a lucky fucking guy.. I said why do you say that.. and he replied.. Because you are finally getting laid on a regular basis.. My girlfriend at the time was a little stunned, but she laughed hysterically, again because Jake had a gift to make you laugh..
He is still the only guy who was on the air who had a sheep named Murray, which by the way was a lesbian. Jake even had a stuffed animal sheep that he would bring to events.. He loved doing stage announcements .. We were both so hammered introducing .38 Special we couldn't even remember which Van Zant was in the band..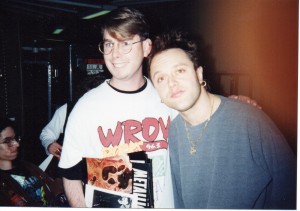 So many other great memories.. Livestock, Hooters Bikini Contests, remotes, and just hanging out drinking beers. The 2 years at WROV I will never forget. It was a great crew of people, and there hasn't been anything to even come close to that experience in radio for me.. I thank Buzz for letting us have fun and be that Rock station that broadcasted from the Rock N Roll Doublewide in the moonshine capital of the United States.
I can't imagine living life in his shoes.. He had a rough one, but he made the best out of it, and was a hell of a dad to top it all off. He was way to young to go.. But I believe he is now at peace..
If you knew Jake feel free to comment and share your story.. I am sure we all have tons..
R.I.P. Jake … AKA Prozac.