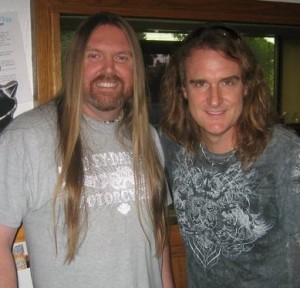 You know having a background in the radio business can pay off sometimes.. Of course not as much as just having some good old fashioned connections. As I mentioned in my previous blog that I went to Vegas and checked out Megadeth…Imagine how stoked I was to find out that I landed a gig doing some voice work in David Ellefson's audio version of his autobiography, "My Life with Deth".. Boom! Can you say, Hell Yes!
For those that don't know I have met David a few different times now, through another good friend (who we will call Randy to protect the innocent) who I am pretty sure put in a good word for me to read excerpts from his book. David is truly one of the nicest guys in the music business. I have done a few other things (couple web graphics, and other voiced audio) for him over the last few years, but it's a pretty cool feeling to have a guy like David ask you to do more work including read excerpts from his book.
I have always wanted to be the voice guy for audio books, even though I am not doing the entire book, that is David's job…It is his book after all.
Once I have a release date I will certainly let everyone know when it is out. I will also post a few clips here on the website.