Another day has gone by and another great loss in the music community. Gregg Allman passed away on Saturday and I am saddened by the loss. For almost 50 years he has been creating music. Over the years when a musician has passed away it hasn't really bothered me, even though there have been a few. But finding out about Gregg Allman definitely hit hard.
For over 20 years, I have been told I look like Gregg Allman. I have always found it funny and a compliment. I mean it could be worse right? Lets face it Gregg Allman was an incredible musician, had an unbelievable career, and was a gentleman. I am glad that I at least had the pleasure of speaking with him in 2006 at WRDU.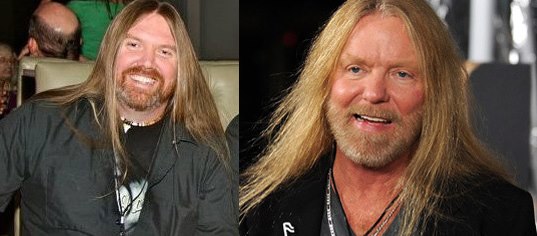 I have made "dad" jokes on social media and with my friends over the years. On Saturday when I was hanging out with a couple friends and my phone started blowing up, I couldn't figure why? I don't usually experience this. I am not that popular of a guy. But I was getting texts, phone calls and messages on my Facebook wall. I thought what in the hell is going on? So I open my phone and I see all these messages about Gregg Allman passing away. I was in shock. We all heard the rumors a few weeks ago he was in hospice, but then he made the statement he was at home resting. I assumed everything was cool.. And maybe it was.. We will probably never know. I would guess he was at home with family.
The music he and his brother(s) created is timeless. Not only did he define a genre of music, but he created it. How many individuals can you think of that have created a genre of music? As I spoke with a friend about him, it's not crazy to think that legends are leaving us. Shocking yes.. Surprising no. When you think about it.. The lifestyle these guys lived in the early days is crazy. The drugs, the booze, the women, the touring, at some point even once you are sobered up it has to have taken its toll on your body. Some more than others.
Gregg was always on my list of people to meet. I tried many times through various connections but it never worked out. What's worse though, we will never get more new music from him. We still have the music he left us to listen to and enjoy and for that I am happy. One of my favorites was from Seven Turns album and the song was "Good Clean Fun"
The Allman Brothers were the first concert I ever saw at 15. George Thorogood opened. At the time I didn't appreciate how great this band was. I learned a few years later just how incredible they truly were and the impact they had on music and musicians over the years. Not to mention "At Fillmore East" being one of the greatest live records recorded. You can read a great article here on that album.
So many memories over the years seeing the Allman's and Gregg solo.. not just enjoying the music and the shows but getting a kick out of people that would stop and take pics with me because I looked like him. It was weird and funny at the same time.
His autobiography "My Cross to Bear" was my favorite book to read that has been written about any rockstar. I would recommend it to anyone. Fan or not.
I will never forget in our interview just how laid back and cool he was. I mentioned to him that everyone has told me for years that I looked like him and as he laughed he just said, "Man I feel sorry for you" and just kept laughing and we kept chatting. He was great.
I even got to do stage announcements and bring the band up both years the Allman's came to Raleigh, NC while I was at WRDU.
A true icon.
Thanks for the music and memories over the years. RIP Gregg Allman.
"You got to let your soul shine.. Just like my daddy used to say.. He used to say soulshine.. It's better than sunshine.. It's better than moonshine.. Damn sure better than rain"