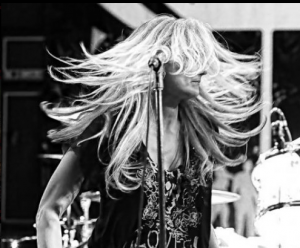 I went to check out Sass Jordan's new group S.U.N. (Something Unto Nothing)What a great group of musicians in this new outfit. Brian Tichy who is known for his drum work with Billy Idol, Whitesnake, and Zakk Wylde to name a few, is on lead guitar, Michael Devin on bass, and Tommy Stewart on drums.
An interesting crowd always shows up at Vamp'd, and this night was no exception. Even guitar virtuoso Jake E. Lee performed with the band on a cover of Zeppelin's Rock N Roll. It was incredible. That guy can still play his ass off. Sass sounds incredible. Her voice has not lost a thing.
The S.U.N. album is out and I can't be more excited about this record. Something the music industry needs. This is a nice kick in the balls to the Rock side of the music business.