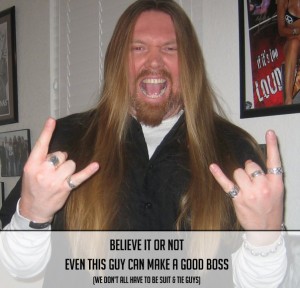 I was just reading this article over at the Huffington Post and the headlined grabbed my attention. "What Makes a Good Boss?" I honestly thought this should be a one line article.
The answer is pretty simple. Don't be a dick.
You can think about any number of reasons to back up your theory of what makes a good boss… But to me it's easy. Don't be a dick.
I have found myself in numerous management positions over the years and managing different types of people and personalities, and being nice isn't always the answer. Just being honest and straight forward can work wonders. I have found that if you get to know who is working for you and what makes them tick you can be very successful at managing a team of people and even inspire them to do great work. Most importantly want them to come in to work.
I have found that I have taken my style from a combo of who I found to be great bosses that I have worked with.
The most important thing for me is be straight up. Do not be spineless. Be honest. If something isn't right tell the employee, it doesn't have to be in front of others, but be straight forward with them. They may not like it at first but they will appreciate the fact you didn't try to bullshit them.
Feel free to leave comments on what you think are great qualities in a boss / manager.